Introducing Outstanding Slate Cleaning Surrey.
Your Slate floor cleaning specialists.
two decades years knowledge of cleaning Slate tile floors.
Contact us for your free Slate cleaning quote.
Slate Floor Cleaning Surrey
Cleaning dirty Slate can be a big frustration, especially if there is a lot of ingrained soil regarding the tiles and the grout. Deciding how to restore your floor could be a big hassle. Eventually you're going to have to a specialist Slate restoration business to get your Slate floor looking fantastic again. This road map will help you make an informed selection of a Slate restoration company.
Slate is a really popular floor tile due to its low porosity and the lots of styles and finishes of Slate that are offered. Whilst slate has a reduced porosity, it will probably still absorb oil and water based spills, making aggravating marks. We use a mix of hand scrubbing and machine scrubbing to eliminate all remnants of old sealers and clean the slate. Once the slate has been cleaned, we allow it to dry out, after that we use a sturdy, easy to clean sealer. If you prefer a smooth slate floor, we could grind a floor, subject to the slate being suited to grinding.
Slate Tile Cleaning Surrey
If homeowners keep on applying layers of polish and sealer, while not taking away the old sealer, the effect is a heavy, unsightly finish. When Slate has a heavy coat of old sealer, it really is arduous for a home owner to remove it. How do we clean out the layers of old sealer and ingrained dirt?
Strong Slate sealer removal and cleaning break up the sealer and ingrained dirt. After twenty minutes, the sealer remover and cleaner will have started to break down the old sealer and soil. Scrubbing equipment removes the soil out from the stone pores. Take off the slurry using a clean water rinse. If there is ingrained dirt remaining, continue scrubing and rinsing until the floor is clean.
Smooth Slate is normally clean after one or two scrubbing and rinsing steps. More scrub and rinse passes may be required for rough Slate. Srubbing machinery can't clean out ingrained soil from deep cavities. If there is a lot of remaining soil, it could be taken away using hot rinse machines.
Heated water is sprayed over the stone at pressure, releasing impacted dirt. The Slate floor is now nice and clean.
Slate restoration covers each and every aspect of professional Slate tile cleaning and repair.
Slate Floor Repair Surrey
When there's a lot of movement in a subfloor, it usually results in tiles cracking that's the reason cracks can be found in doorways and between different subfloors.
Single tiles on a stable subfloor can certainly still crack. A crack repair will be visible, however a repair is lower than the expense of replacing a tile. When mending a fractured Slate tile, the cracks need to be opened to take a filling material. We operate fine diamond cutters, opening the crack to two to four mm by using respect to the form of the crack. The crack is by using a colour matched grout. Grout could be left sponged or dry sanded. Slate is often multi-coloured, so crack repairs will not be invisible. However a dirty crack is unsightly Whenever compared by using a correct.
Contact Us Now!
It's simple to get a quote for yourSlate Cleaning Surrey .
Slate Sealing Surrey
Bathrooms, kitchens and dining rooms have lots of greasy and water-based liquids that will stain Slate. Spills are able to pass through the top of Slate, giving unappealing stains. High-quality Welsh Slate can mark, and imported varieties can vary dramatically in porosity. A sealer helps in avoiding the spill from staining the Slate.
Impregnating Or Penetrating Slate Sealer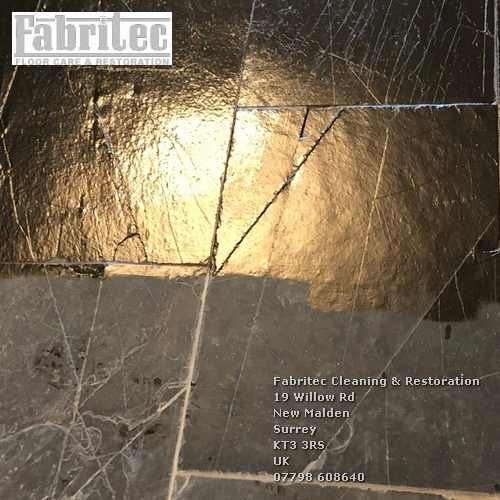 An impregnating sealer can be applied to Slate. Two or three coats of sealer is usually enough for Slate. An annual application of impregnating sealer helps keep the level of protection on Slate.
An impregnating sealer creates a hydrophobic surface that repels water, preventing water absorption, but it does have its limitations. Acid or alkali spills, which are common in kitchen and toilet environments, can degrade the sealer. Additionally, the sealer does not offer any protection to the surface of the slate, making scratches and scuffs highly visible. While an impregnating sealer might seem like the holy grail of waterproofing, it's important to consider the potential downsides. If you're all about maintaining the pristine appearance of your tiles, you might want to explore other sealing options that offer both surface protection and waterproofing capabilities. Don't let your tiles drown in a sea of regret, choose wisely and keep them looking fly.

Film-forming or surface sealers are applied on Slate. Surface sealers offer a sacrificial wear Film over the Slate. Surface sealers render more protection against acid etching. The film serves as a wear Film, taking damage from shoe traffic in the place of the tile itself.
Pre-sealing with an impregnating sealer is advisable to beef-up the protection. The impregnating sealer will help to protect the Slate in areas where the surface sealer wears away.
Surface sealers generally continue working for two to 4 years. We recommend inspecting high wear areas every six months for traffic. If a location is showing traffic, deep clean the area to get rid of surface soil. Restore the finish with a couple of coats of Surface sealer.
If you will do this, your sealer can last much longer. And also this stops unattractive sealer accumulation in corners and edges.
Slate Polishing is accomplished with a gloss surface sealer. However, a slate floor can be ground and honed to a nice sheen finish. It is really not recommended to hone friable or riven Slate. The natural flaking process keeps on going, spoiling the look of the Slate tiles.
Restore your Slate floors to help you get pleasure from them for a long time to come.
Some Of The Towns In Surrey we serve:
: